Overview

Type in Gujarati Easily
Typing in Gujarati can be very difficult for someone who is not trained on the typing layouts. Gujarati Pad makes typing in Gujarati a piece of cake in Windows. Thanks to its revolutionary typing 'Type as you speak' layout, you will be typing in Gujarati in no time.

Carry the text to any application
Type in Gujarati Pad and copy the text into any Windows application. You can style the text there and make any document. Just use simple Copy (CTRL+C) and Paste (CTRL+V) commands to transport Gujarati text.

Includes 45 Fonts
With over 45 Gujarati Fonts, you will have all the variety in typefaces that you need to style your documents.
features
Easy to Use
Don't waste hours learning Gujarati typing. Gujarati Pad's innovative layout allows you to type the way you speak. You will be typing with speed in the first hour itself.
Familiar Interface
Gujarati Pad's interface is modeled on popular word processors. You won't have to learn anything new to start using Gujarati Pad.
Flexible
Gujarati Pad can make bi-lingual documents with combination of Gujarati and English. You can select between Gujarati and English numerals too. All with a single click of the mouse.
Send E-mails in Gujarati
With Gujarati Pad you can send Emails in Gujarati to your family and friends. Gujarati Pad sends the mail using Outlook Express or any other MAPI compliant Email client, this means you don't need to do any complex server settings.
Universal Compatibility
Take your files to any Windows based software, be it a wordprocessor, presentation, page designing or multimedia software. Just copy and paste text, or import Gujarati Pad files in your favorite software.
45 Gujarati Fonts
With over 45 Gujarati Fonts, Gujarati Pad gives you the widest variety of font designs to choose from. Lets you make your documents look distinctive and stylish.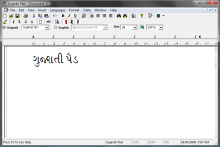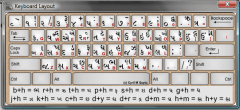 Other ways to order
Deposit Check (No Cash!) in our Axis Bank Account
Account: Public Software Library India Pvt Ltd Account Number: 5930 1020 000 1083
Transfer Money Online Into Our Axis Bank Account
Account: Public Software Library India Pvt Ltd
Account Number: 5930 1020 000 1083 IFSC Code: UTIB0000593